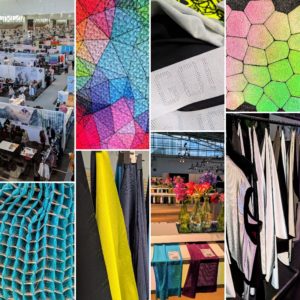 Keeping our finger on the pulse in the global heart of textiles
As owner-operators of a custom sportswear manufacturing business, our products represent us – who we are, what we value and what we live and breathe each day. It is our lifeblood, and we must keep our finger on the pulse. A recent visit to Europe allowed us to do just that in the global heart of textiles.
The itinerary
The first destination on our travels was an international fabrics tradeshow in Germany. We were introduced to the world's latest trends and innovations in high performance custom sportswear, putting countless exciting ideas at our fingertips.
The second destination was Northern Italy, the heart of global textiles and performance sportswear for cycling in particular. We visited suppliers including:
Technical fabrics with innovative attributes, for example aerodynamics or high-visibility
Silicon coated fabrics
Elasticated mesh banding
Fabric bonding
Manufacturing machinery such as large-scale printers and heat presses
Global innovations adapted to the Australian market
We have uncovered a myriad of innovations that we look forward to introducing to the Australian custom sportswear market. Not only have we uncovered these innovations, we have seen first-hand how they are made to ensure top quality for our customers, and learnt from the best of the best how to apply those concepts.
Many of the innovations were created with cycling wear in mind, being a sport close to the heart of Italians who are also world-renowned textile inventors. However, unique to us as Australian manufacturers of elite custom sportswear, we will also rigorously explore the many ways in which these cycling creations can be repurposed for our full range of custom sportswear. This range includes inline speed skating, ice speed skating, roller artistic skating, gymnastics, triathlon, athletics, athleisure and more. In particular, we are able to focus on the specialised needs of Australian athletes in Australian environmental conditions.
Genuine customisation
We are proud to be able to offer this unique end-to-end service locally to our Australian customers. We will not only integrate innovations across our entire product range, but we will continue the two-way dialogue with our customers to tailor those innovations to their exact requirements for either the team or individual athlete. Yes, it can be that exact.
Engage Athletic will continue to work in partnership with customers to build continually improving high performance custom sportswear that will get your blood pumping and drive you to win.
Please contact us on +613 9464 3633 or sales@engageathletic.com.au to discuss your custom sportswear requirements, or request a quote here.